We Are Oceans Healthcare
Welcome Psych Congress Attendees!
At Oceans Healthcare, we are passionate about helping individuals attain the best possible quality of life. As a nationally recognized provider of behavioral health services, we support patients on their journey to healing and long-term recovery.

Through our specialized inpatient services and intensive outpatient programs, Oceans Healthcare offers comprehensive mental health treatment to help patients at every stage of the healing process.
Our Mission:
As a behavioral health provider with a special focus on the unique physical and emotional needs of older adults, we are committed to caring for patients and their families with dignity; with keen awareness of the importance of treating the whole person; with a focus on progressive behavioral therapies; and with respect for our employees, physicians, healthcare providers and the communities we serve.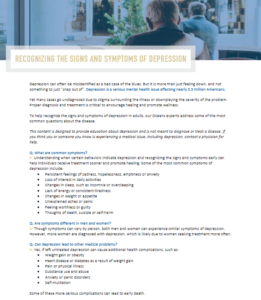 FREE DOWNLOAD: Recognizing the Signs & Symptoms of Depression
Depression impacts more than 3 million Americans but often, it can be difficult for individuals to distinguish between "feeling blue" and something more serious. To help your patients or residents recognize the signs and symptoms of depression and understand where to turn for help, download our helpful resource.
You're Available 24/7. So Are We.
Oceans Healthcare fills a unique need in the healthcare continuum, and we respect and value the relationship we share with physicians and referral sources.
We treat the behavioral symptoms of major depression, anxiety, bipolar disorder, schizophrenia, behavioral illness related to substance abuse and other issues. Join our referral network today!