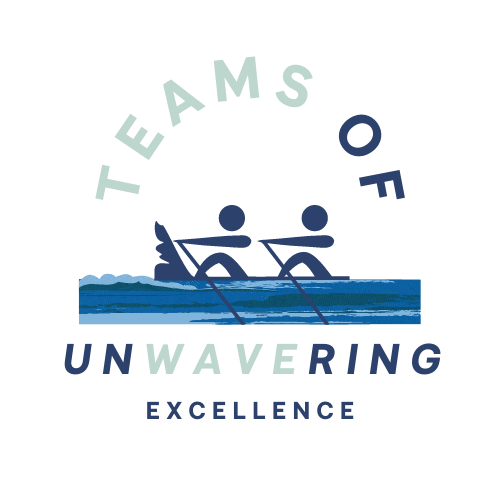 During National Nurses Week (May 6-12) and National Hospital Week (May 7-13), Oceans Healthcare is recognizing its incredible Teams of UnWAVEring Excellence for their dedication to the organization's core convictions, patients and each other. Oceans' team members rise to the call of helping others each day, displaying excellence through their commitment to ethical conduct, quality assurance and advocacy.
Your passion and professionalism are unmatched, and you deserve to be celebrated! #TeamsofUnWAVEringExcellence
MEET OUR TEAMS OF UNWAVERING EXCELLENCE: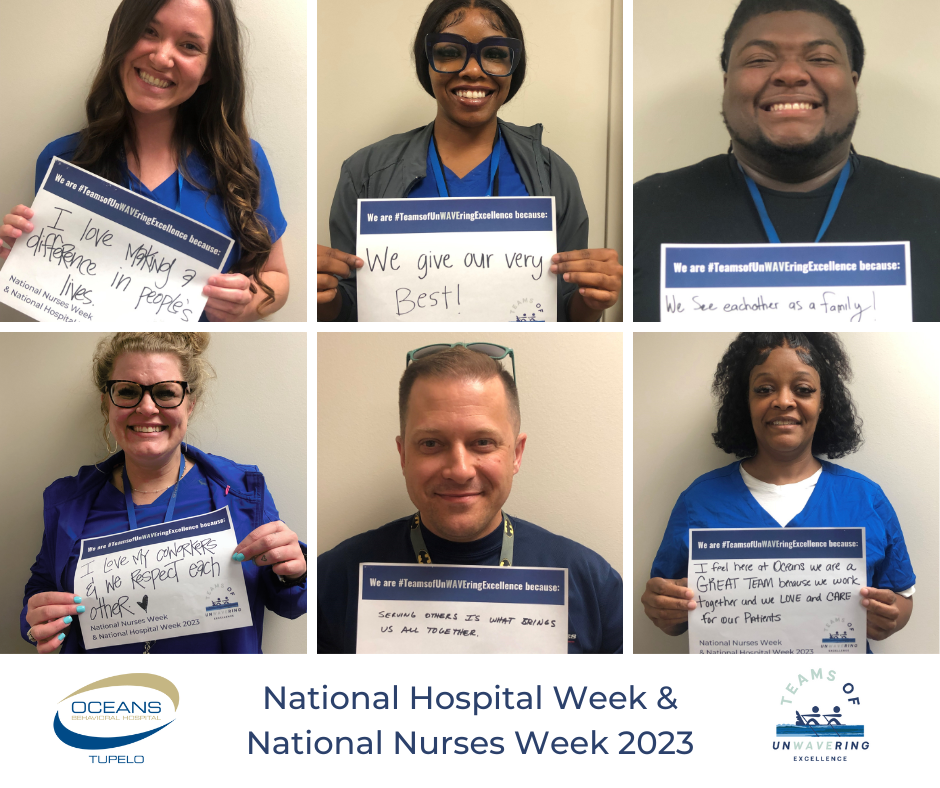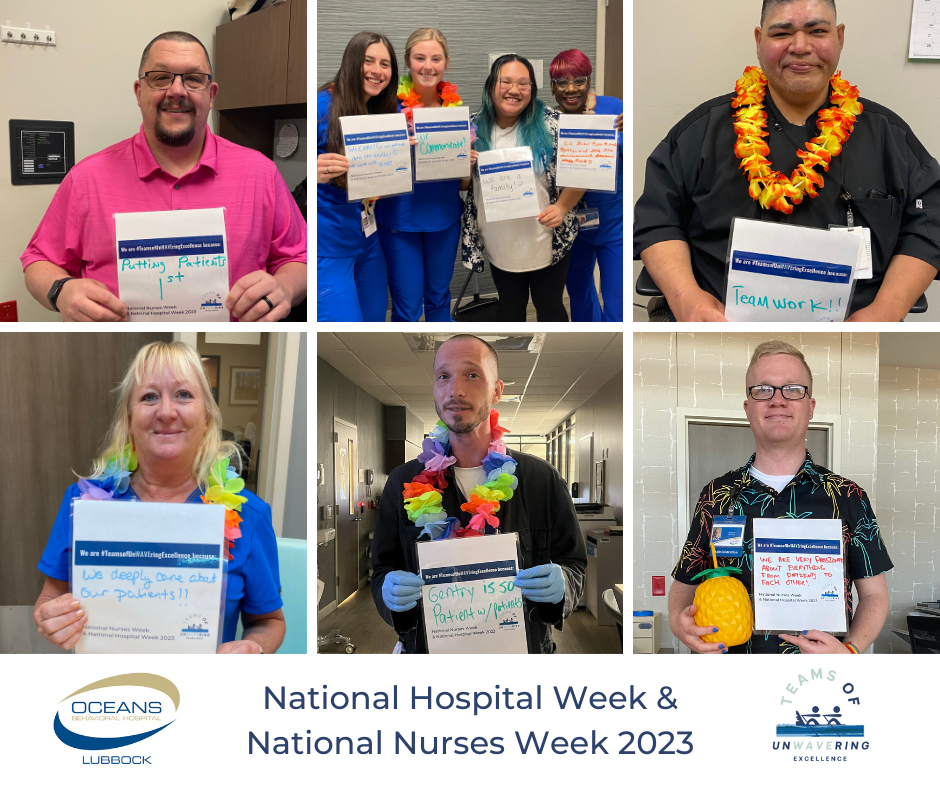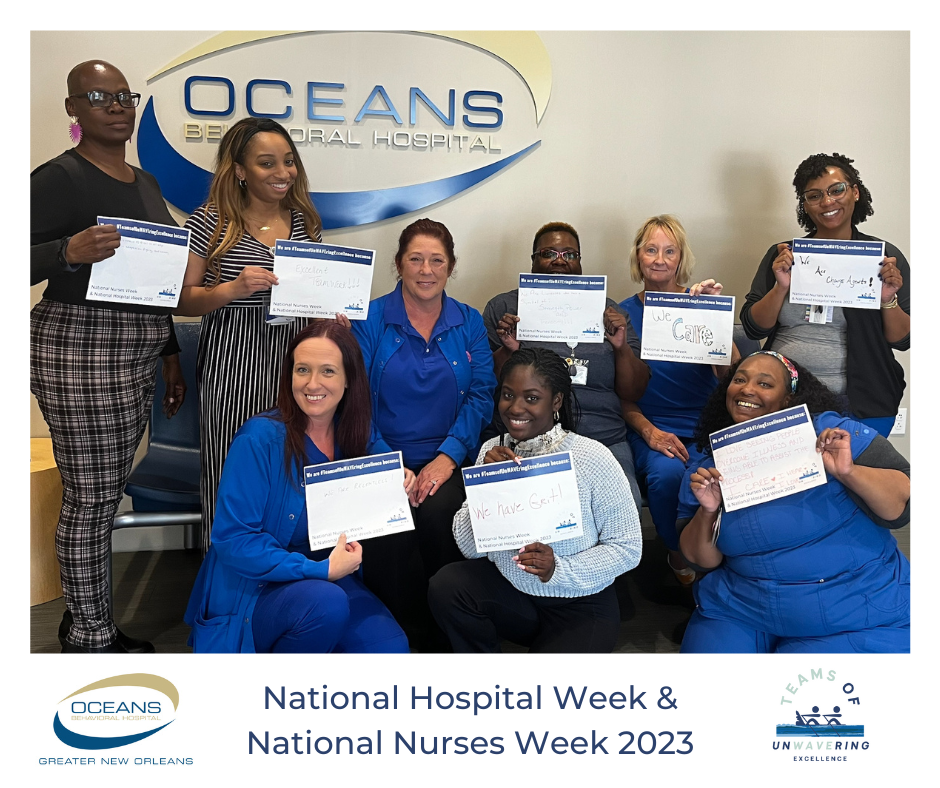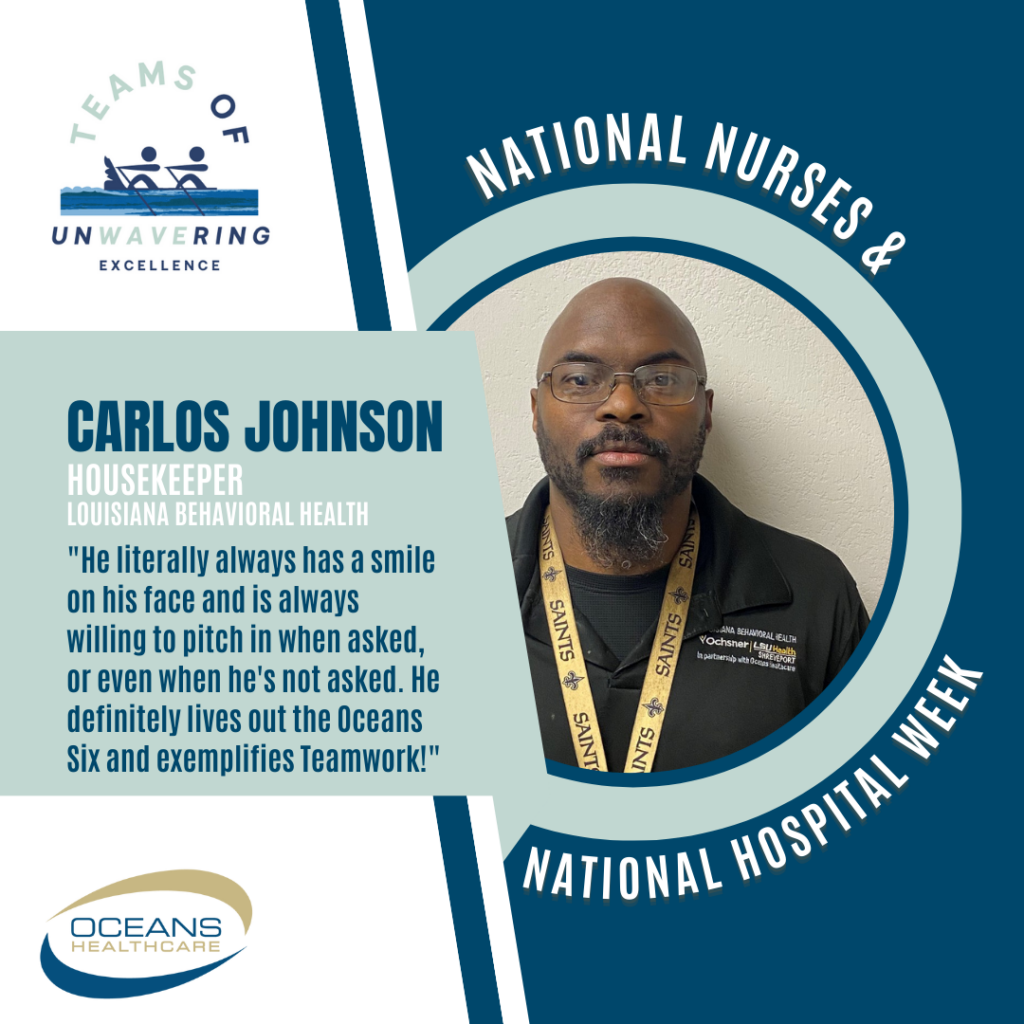 For Louisiana Behavioral Health Housekeeper Carlos Johnson, the most rewarding part of his role is working with his team members, so it's no surprise he's revered by coworkers for demonstrating the Oceans Six core conviction of teamwork.
Carlos is a bright light with an optimistic outlook. "Just knowing I get to start my day with a laugh and smile when I'm around my team keeps me motivated." Thank you for all you do, Carlos!

For Oceans Alexandria Mental Health Technician Frances Hagan, health care isn't just a job – it's a calling. She is known at the hospital for her contagious positivity and the joy she brings to patients.
Frances treats each patient with the same level of care she would a loved one. She is motivated by her passion to help people in need and always tries to "make someone's day just by smiling or giving them a compliment." We're lucky to have a compassionate professional like Frances on our #TeamsofUnWAVEringExcellence!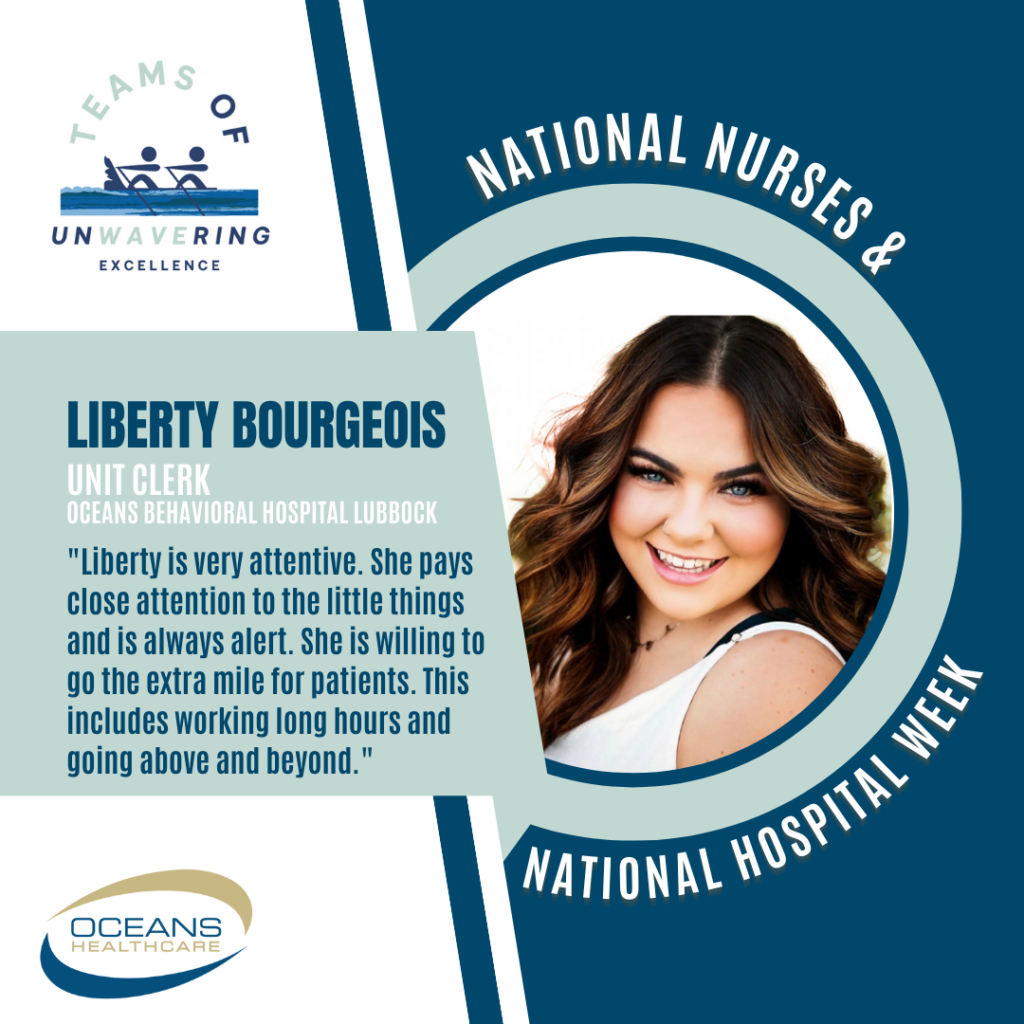 Oceans Lubbock Unit Clerk Liberty Bourgeois says the most gratifying aspect of her work is seeing patients' progress. "I love seeing patients' faces light up when they see their family members waiting on them after they've been discharged from the hospital. You can sense they're excited about the person they've become."
Liberty's advice for those entering the mental health field: "It's one of the most rewarding areas of health care." Thank you for all you do, Liberty!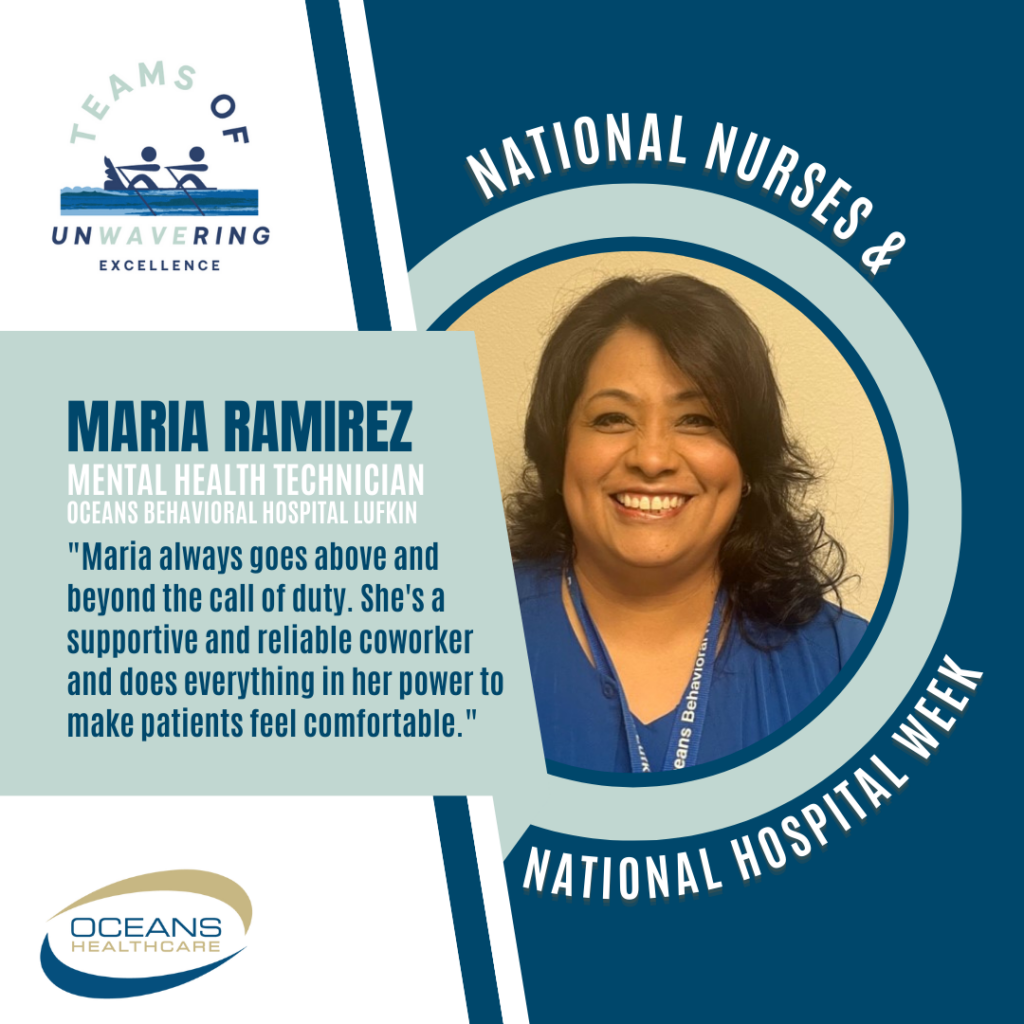 A recent graduate of the Mental Health Technician Clinical ladder program, Oceans Lufkin Mental Health Technician Maria Ramirez is dedicated to lifelong learning and quality care. This strong commitment to serving extends to her patients: "My patients keep me motivated. I love supporting them and being a source of comfort for them." Thank you, Maria!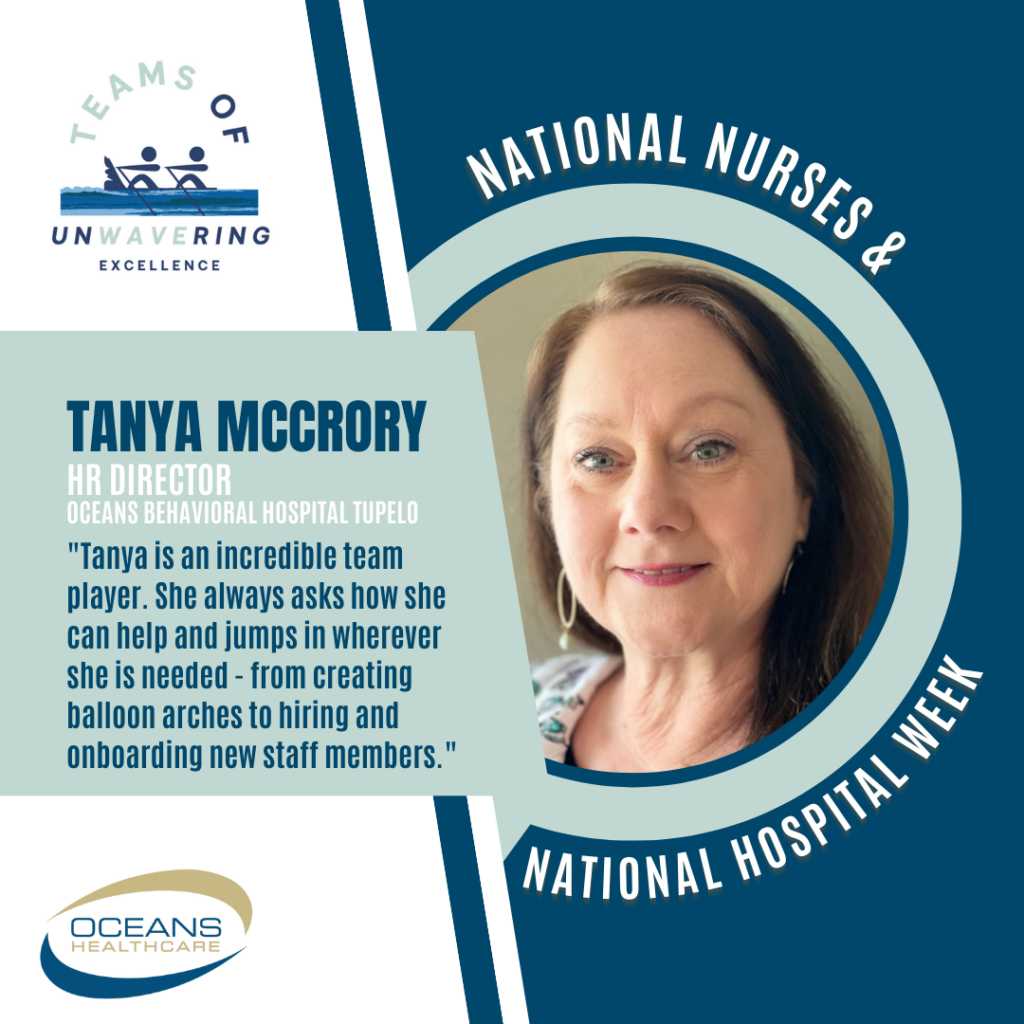 When Oceans Tupelo opened earlier this year, HR Director Tanya McCrory brought her cheerful attitude and witty sense of humor as she navigated launching a new location. "Opening a new hospital is a challenge, but seeing daily results is rewarding! Meeting and hiring employees that create a cohesive, caring team and knowing patient care is their priority makes it all worth it."
Tanya is energized by collaborating with team members who are as passionate about patient care as she is. We value your Oceans spirit, Tanya! #TeamsofUnWAVEringExcellence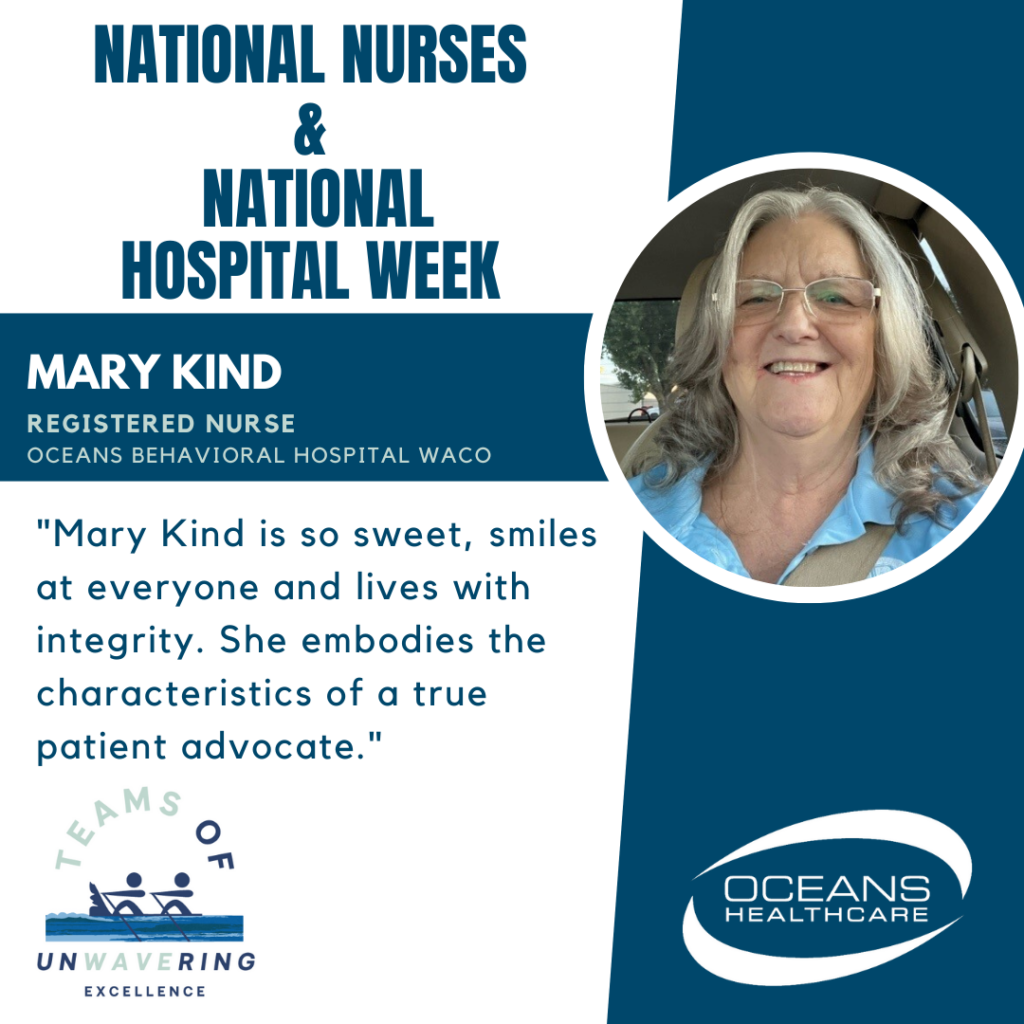 Oceans Waco Registered Nurse Mary Kind was inspired to pursue a career in behavioral health after caring for a loved one with mental health conditions. She wanted to help others dealing with similar issues.
Mary treats each patient with the same level of consideration, empathy and kindness. "In my book, if you treat people with respect, they respond a lot better to you. We don't know where these folks come from, and we have to give them the respect we would want if we were in their position." Thank you, Mary, for your unWAVEring commitment to excellent care. We appreciate you!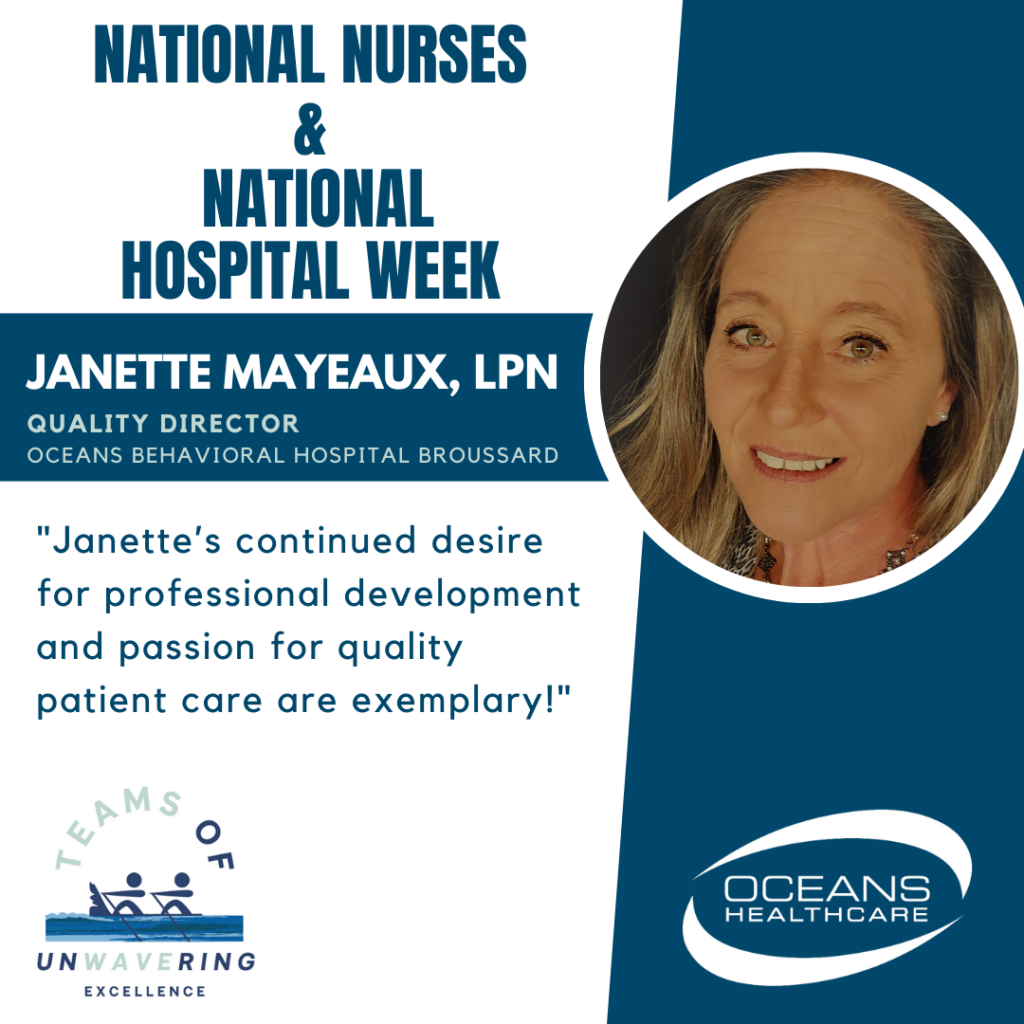 Oceans Broussard Quality Director Janette Mayeaux's unWAVEring dedication comes from her own experience navigating behavioral health treatment for her son. She takes pride in positively impacting individuals' lives, which has instilled in her a relentless commitment to ensuring patients receive the highest quality care.
Janette is admired for her passion and commitment to professional development. She recently achieved her Certified Professional in Healthcare Quality (CPHQ) certification, a testament to her devotion to our core conviction of quality. "While medication, science, technology and research certainly have their place in healing, they pale in comparison to the healing effects of compassion. It's a great honor to be of service to those in need." #TeamsofUnWAVEringExcellence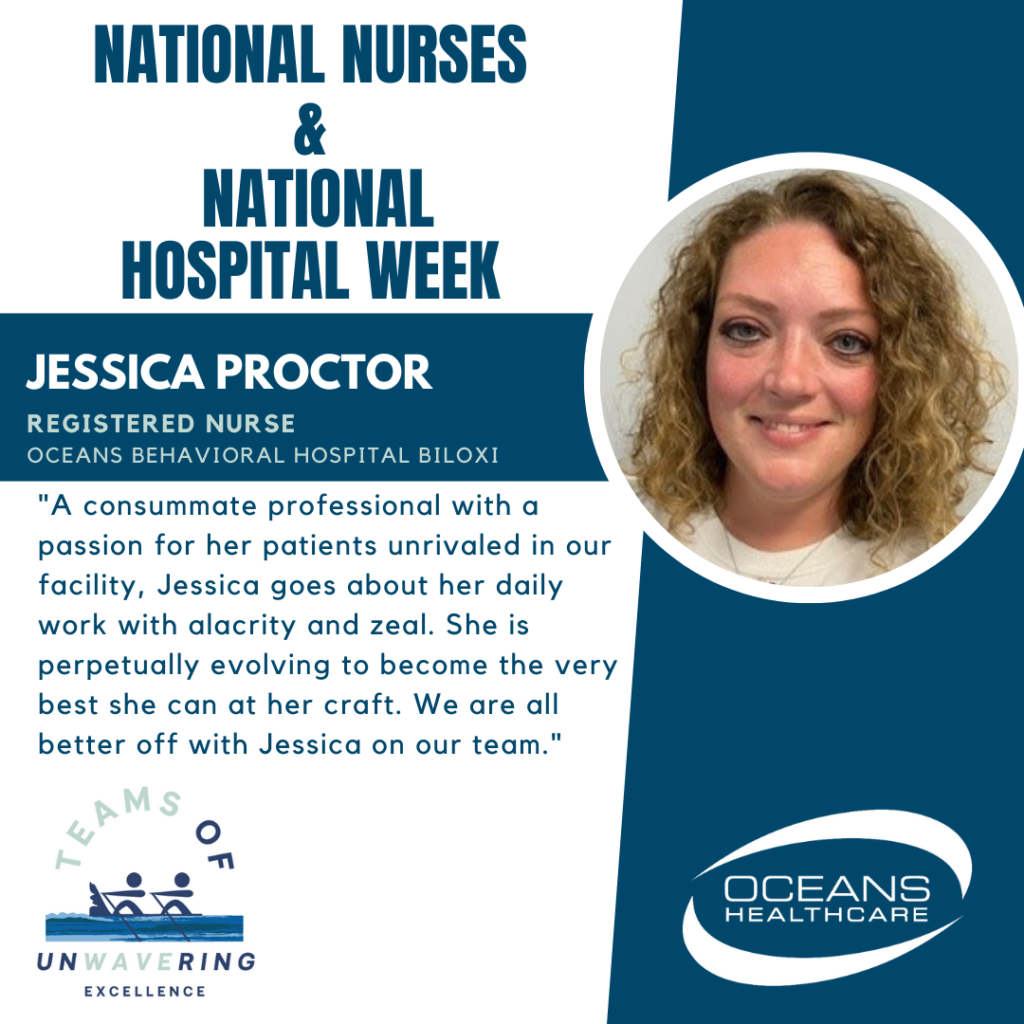 Registered Nurse Jessica Proctor is known at Oceans Biloxi for her deep professional knowledge and commitment to advancing her skills. Her growth-oriented attitude and passion for behavioral health was set in motion by a keen interest in psychiatric nursing.
Jessica is a firm believer in the power of teamwork and collaboration. "The most rewarding part of my job is working with my team to tackle emergency situations and witnessing our collective commitment to upholding our high ethical and clinical standards of care." Thank you for your unWAVEring commitment to our values, Jessica! #TeamsofUnWAVEringExcellence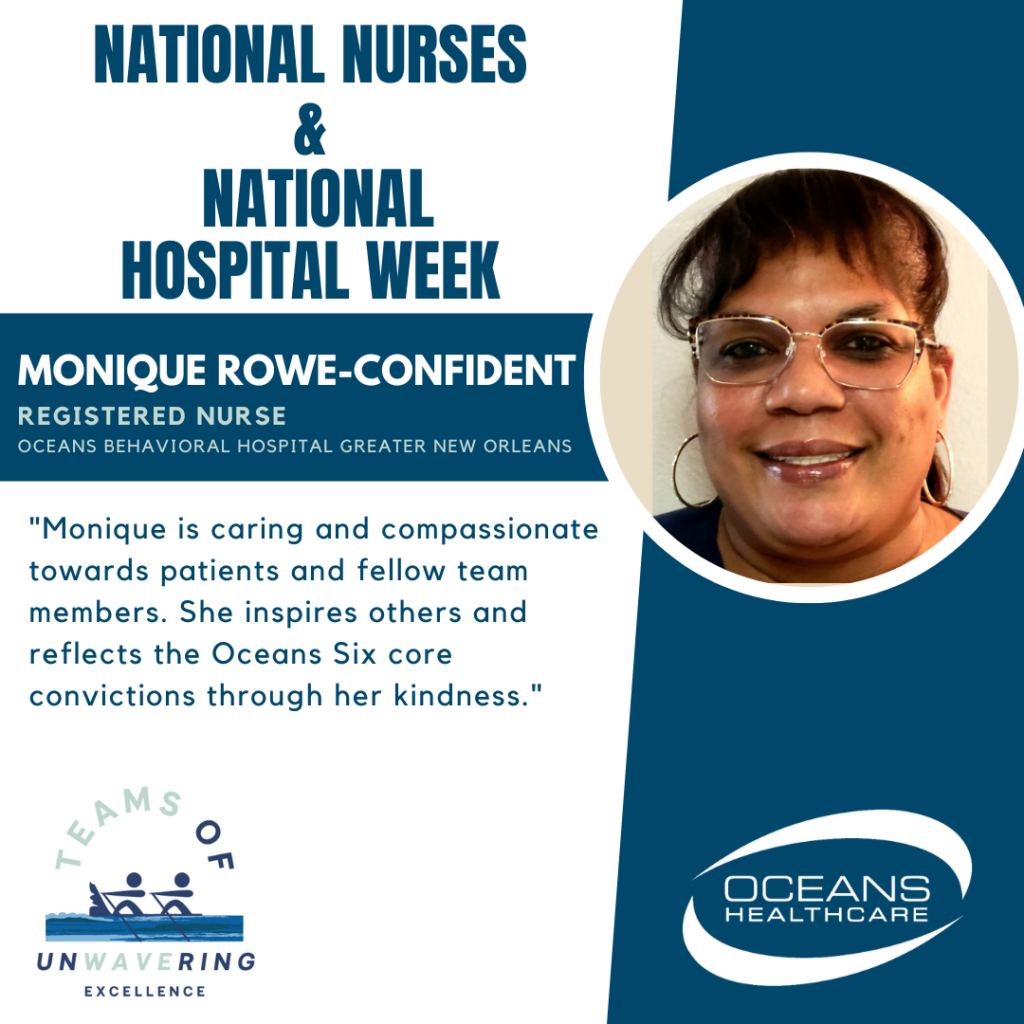 Registered Nurse Monique Rowe-Confident's positive attitude is infectious and appreciated by her fellow team members at Oceans Greater New Orleans.
"My advice to those interested in entering the nursing field is to treat people how you'd want to be treated." Through her daily delivery of compassionate, person-centered care, it's clear Monique makes an effort to follow her own advice each day. We're lucky to have caring individuals like her on our #TeamsofUnWAVEringExcellence.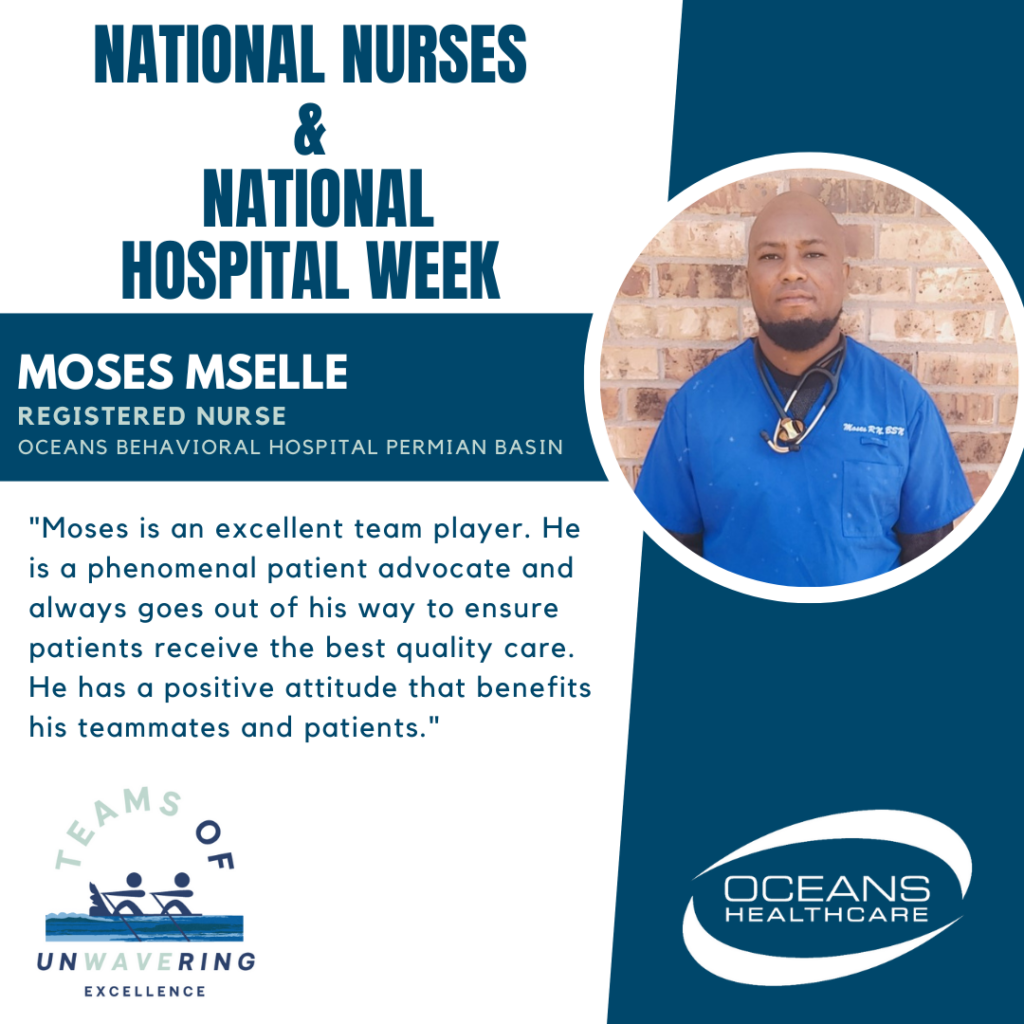 Oceans Permian Basin Registered Nurse Moses Mselle's is a fierce patient advocate with a meticulous work ethic and generous heart.
His passion developed after witnessing the impact behavioral health stigma can have on individuals managing mental health issues. He takes pride in providing quality care without judgement. "Growing up in a culture that often stigmatizes mental health made me want to become a mental health nurse and help bring awareness to my community." Thank you for all you do, Moses!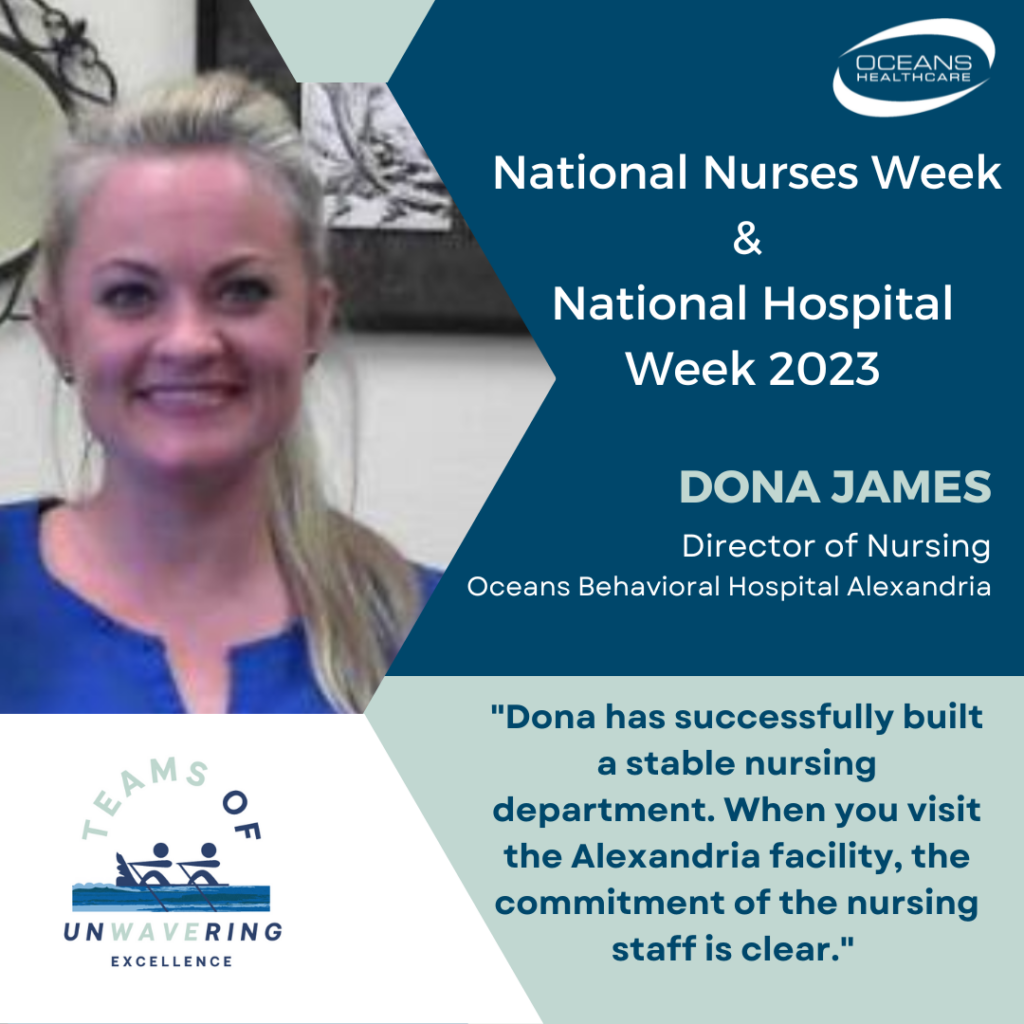 Oceans Alexandria Director of Nursing Dona James' consistent leadership and commitment have led to exceptional patient outcomes and satisfaction. "Dona has served as a mentor to several other DONs. She is a source of strength for the entire hospital leadership team and always has a smile on her face." We appreciate you, Dona!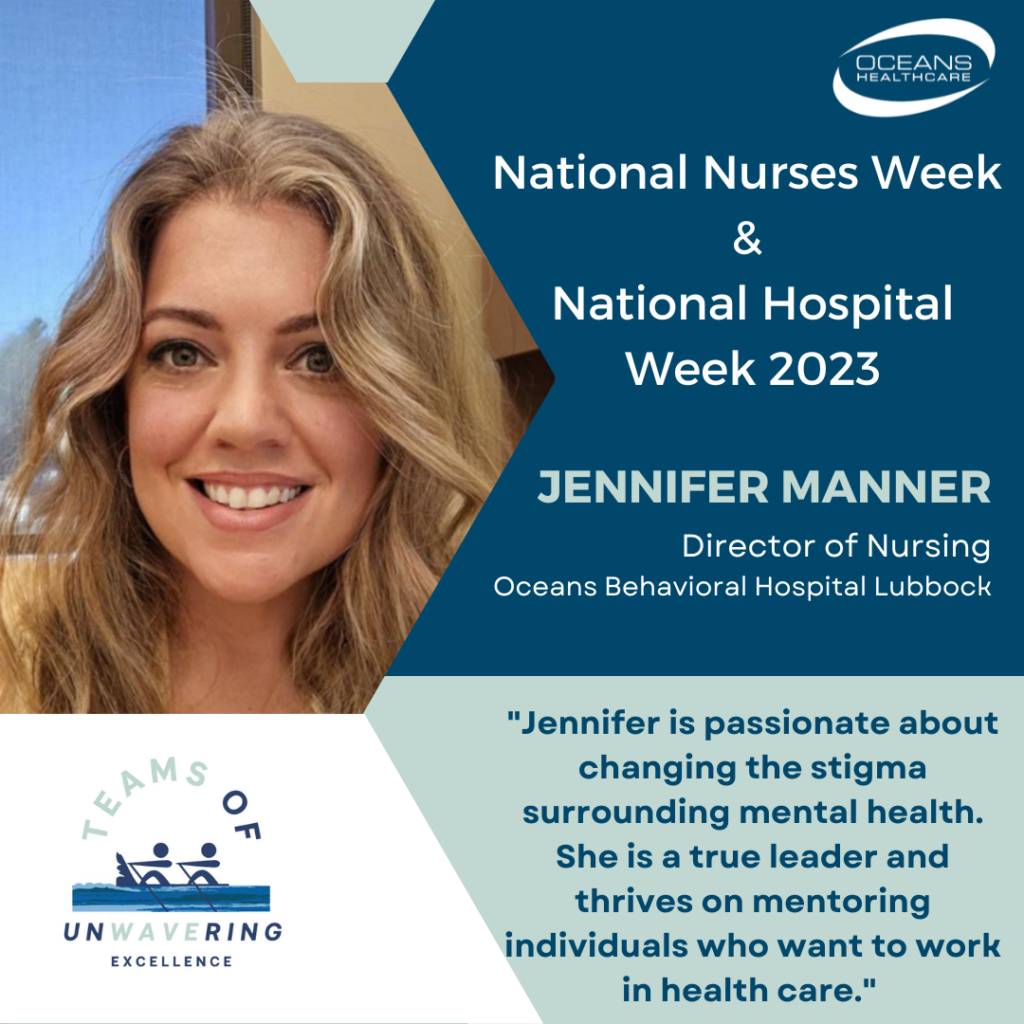 Oceans Lubbock Director of Nursing Jennifer Manner's passion for behavioral health does not go unnoticed. She plans to build upon her clinical knowledge by pursuing a master's degree. "Jennifer thrives on helping individuals who want to work in health care. She focuses heavily on recruiting the right people for the organization, then promotes and builds teamwork to retain them."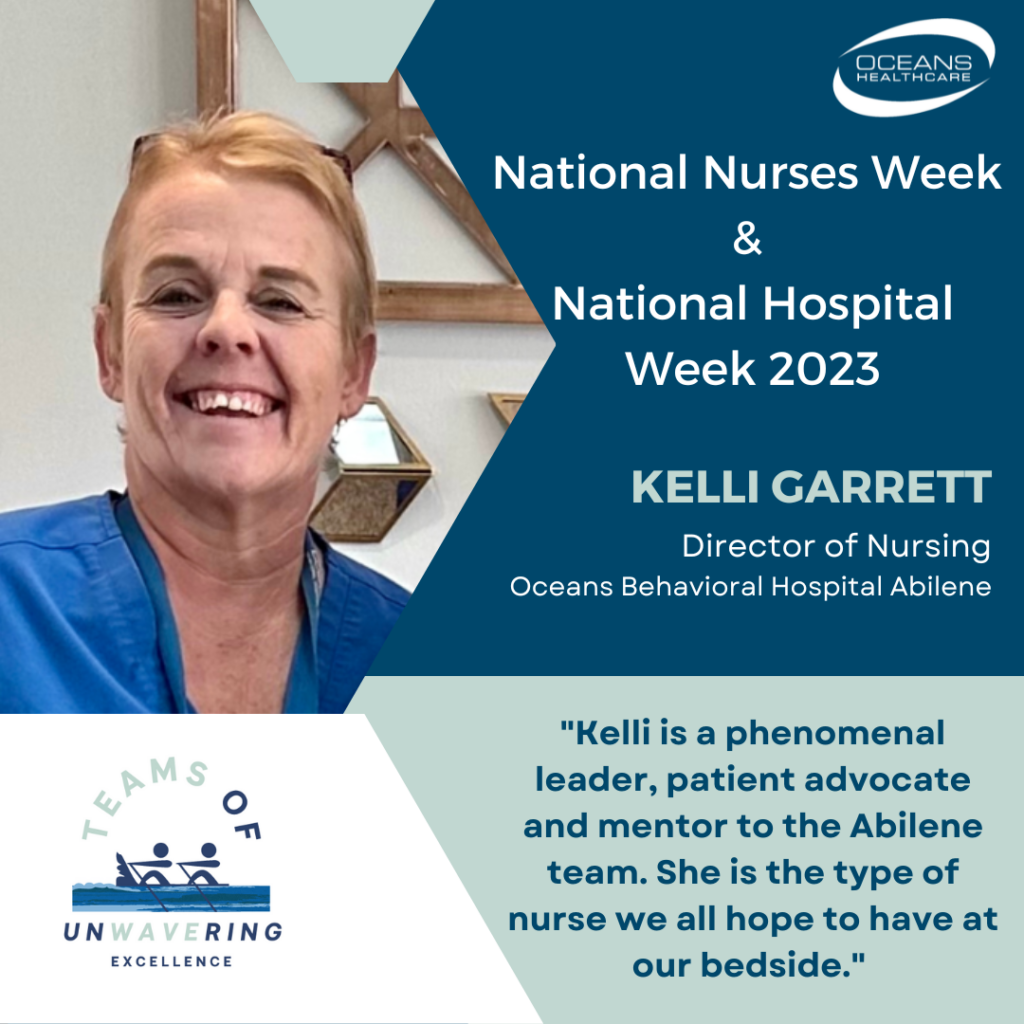 Oceans Abilene Director of Nursing Kelli Garrett's unWAVEring positivity is admired by her team members and patients. "Kelli is passionate about helping patients who live with mental illness. She brings them hope and instills a strong belief in recovery." Kelli takes every opportunity to grow her skills and will receive her next year.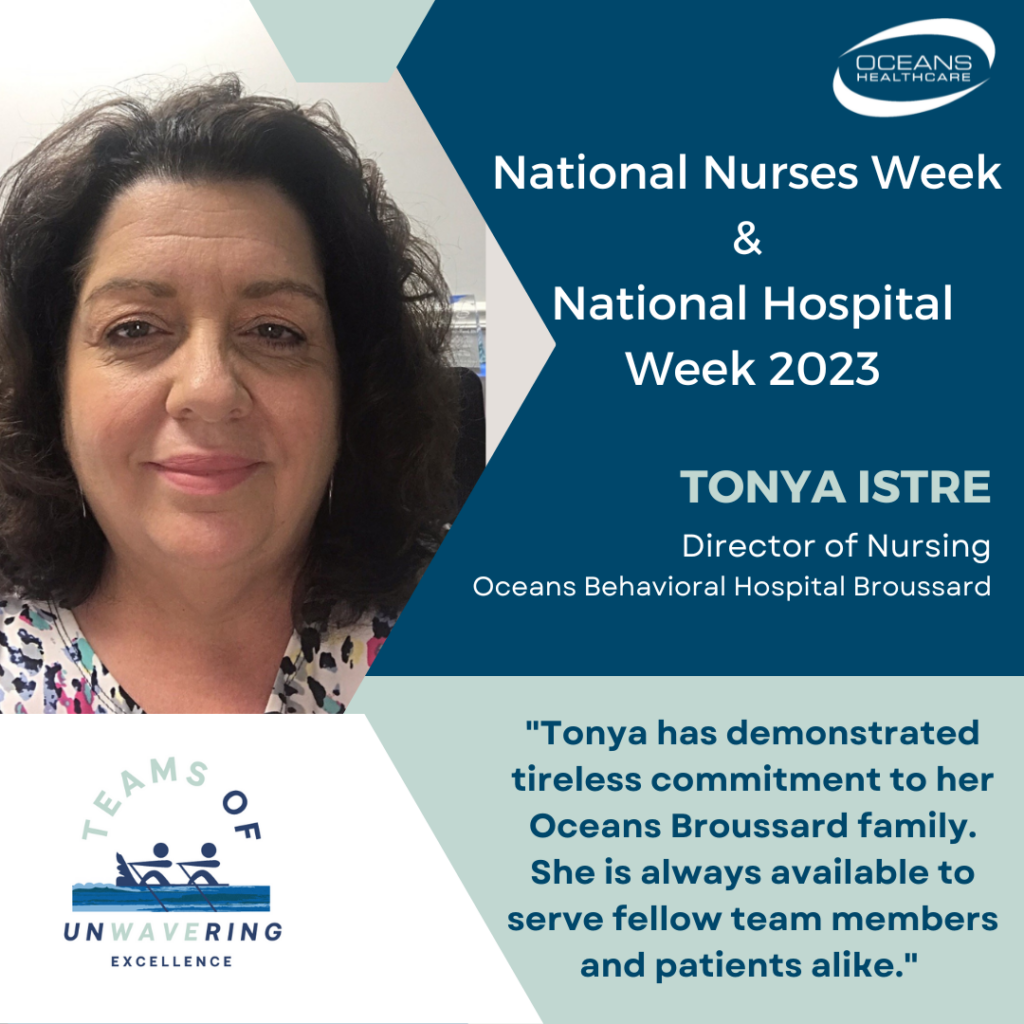 Director of Nursing Tonya Istre has made countless contributions to Oceans Broussard over the last 18 years. She is a reliable leader with vast industry and organizational knowledge that new team members hold in high regard. "She has become a mentor to the newer DONs. She is respected by these team members and her supervisor for her expertise." Thank you for all you do, Tonya!
To our team members: Don't forget to share your reflections on how you and your team contribute to Oceans' culture of excellence and work together to achieve the best outcomes for patients. Send your "Teams of UnWAVEring Excellence" selfie sign and responses to oceansinaction@oceanshealthcare.com for inclusion in the employee newsletter and social media channels. We've loved seeing your responses!